Quality Payment Program
What are MACRA & the Quality Payment Program?
The Medicare Access and CHIP Reauthorization Act of 2015 (MACRA) was signed into law in April 2015. It replaces the Sustainable Growth Rate formula with a new approach to paying physicians for the value and quality of care they provide. Reporting under this new payment system, the Quality Payment Program (QPP), began in 2017 and includes two pathways for participation: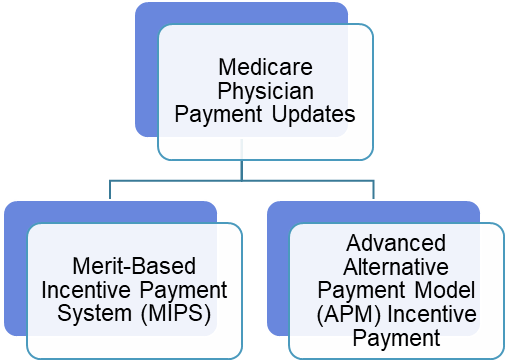 Physicians participating in an Advanced APM (such as a Medicare Shared Savings Program ACO that has downside risk), may be exempt from the reporting requirements under MIPS and potentially earn an incentive payment. If you are not eligible for the Advanced APM track and participate in MIPS, your Medicare payments will be subject to a positive or negative performance-based payment adjustment two years following the performance year. Those professionals who would otherwise be required to participate in MIPS in 2019 might be excluded from the MIPS requirements under the Low Volume Threshold (LVT) Exclusion if they meet any of the following criteria:
Bill $90,000 or less in allowed charges under the Medicare Physician Fee Schedule
Furnish covered professional services to 200 or fewer Medicare beneficiaries
Provide 200 or fewer covered professional services under the Medicare Physician Fee Schedule
However, new for 2019, those clinicians and groups who meet two of the above criteria (but not all three) may choose to opt-in to MIPS participation.
To determine whether you are included or excluded from the QPP in 2019, clinicians may use the MIPS Participation Status Look-up Tool.
What is the Merit Based Incentive Payment System (MIPS)?
The Merit Based Incentive Payment System (MIPS) is a new program that combines parts of the Physician Quality Reporting System (PQRS), the Physician Value-Based Payment Modifier (VM), and the Medicare Electronic Health Record (EHR) Incentive Program (Meaningful Use) from past years into one single program that ties Medicare payment adjustments to overall performance.
Components
MIPS eligible clinicians will receive a composite performance score (or "MIPS Final Score") between 0-100 points, based on four performance categories:
Quality (replaces the Physician Quality Reporting System): 2019 category weight: 45%
Improvement Activities: 2018 category weight: 2019 category weight: 15%
Promoting Interoperability (Formerly known as the Advancing Care Information Performance Category (which was based on the Meaningful Use program): 2019 category weight: 25%
Cost (replaces Value-based Modifier program): 2019 category weight: 15%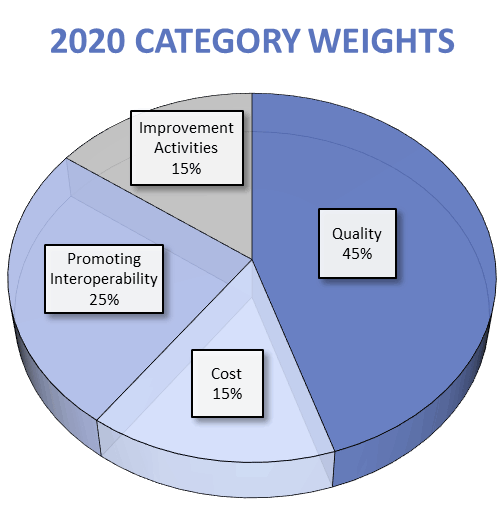 Participation Options
For 2019, clinicians may choose to participate in MIPS as an individual, group, or virtual group. Note that the selected level of participation must be used across all four performance categories. Clinicians may also choose to report data via multiple submission mechanisms, including claims, registry, EHR, and web-based attestation (via the CMS Data Submission System). However, claims-based reporting is now limited to physicians in small practices. Clinicians can use different submission mechanisms across different performance categories, but will only be scored on data submitted via a single mechanism within each category. For those members seeking to submit data via registry or Qualified Clinical Data Registry (QCDR), CMS will post the participation option on its website when the final 2019 list is available.
Payment Implications
MIPS eligible clinicians who do not participate in MIPS in 2019 may be subject to a negative (-7%) payment adjustment in their 2021 payments. For those who do report, payment adjustments can range from -7% to potentially +7% depending on their aggregated performance across the 4 MIPS categories. MIPS payment updates are budget neutral, therefore the amount of funding available to positive adjustments is dependent on the amount Medicare collects in downward adjustments. However, MIPS also includes bonus payments for "exceptional performers." These bonuses are funded through a separate pool of money that is not impacted by the budget neutrality rules of the base adjustment.
What are Alternative Payment Models?
Alternative Payment Models are a payment approach that gives added incentive payments to provide high-quality and cost-efficient care. APMs can apply to a specific clinical condition, a care episode, or a population. Advanced APMs are a subset of APMs, and provide an incentive for facilities and practices to earn a bonus payment in exchange for taking on some risk related to their patients' outcomes and resource use. Entities participating in Advanced APMs in 2019 may earn a 5% Medicare incentive payment in 2021, which physicians participating may be eligible to receive directly (depending on the clinicians' contracts with the participating APM entity).
Advanced APMs are APMs that meet the following criteria:
They base payment on quality measures comparable to those in MIPS.
They require the use of certified EHR technology.
They either (1) bear more than nominal financial risk for monetary losses OR (2) are a primary care medical home PCMH as expanded under the CMS Innovation Center authority.
The number of clinicians in this track will remain relatively small compared to those in the MIPS track, particularly among specialists for which few Advanced APMs are currently available. For a list of Advanced APMs approved for 2019, click here.
Additional Resources