2020 Quality Payment Program Update
What are MACRA & the Quality Payment Program?
The Medicare Access and CHIP Reauthorization Act of 2015 (MACRA) was signed into law in April 2015. It replaces the Sustainable Growth Rate formula with a new approach to paying physicians for the value and quality of care they provide. Reporting under this new payment system, the Quality Payment Program (QPP), began in 2017 and includes two pathways for participation: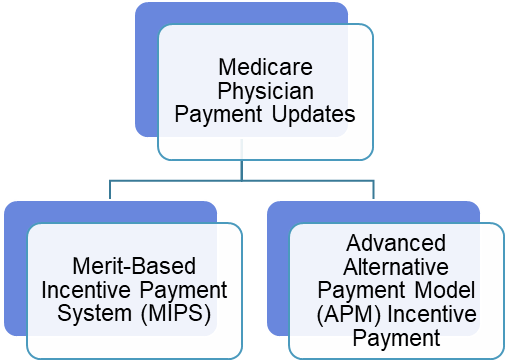 Physicians participating in an Advanced APM (such as a Medicare Shared Savings Program ACO that has downside risk), may be exempt from the reporting requirements under MIPS and potentially earn an incentive payment. If you are not eligible for the Advanced APM track and participate in MIPS, your Medicare payments will be subject to a positive or negative performance-based payment adjustment two years following the performance year. Those professionals who would otherwise be required to participate in MIPS in 2020 might be excluded from the MIPS requirements under the Low Volume Threshold (LVT) Exclusion if they meet any of the following criteria over a 12-month period:
Bill $90,000 or less in allowed charges under the Medicare Physician Fee Schedule
Furnish covered professional services to 200 or fewer Medicare beneficiaries
Provide 200 or fewer covered professional services under the Medicare Physician Fee Schedule
Clinicians and groups who meet two of the above criteria (but not all three) may also choose to opt-in to MIPS participation.
To determine whether you are included or excluded from the QPP in 2020, clinicians may use the QPP Participation Status Look-up Tool.
What is the Merit Based Incentive Payment System (MIPS)?
The Merit Based Incentive Payment System (MIPS) combines aspects of legacy programs such as the Physician Quality Reporting System (PQRS), the Physician Value-Based Payment Modifier (VM), and the Medicare Electronic Health Record (EHR) Incentive Program (Meaningful Use) into one single program that ties Medicare physician payment adjustments to overall performance.
Components
MIPS eligible clinicians will receive a composite performance score (or "MIPS Final Score") between 0-100 points, based on four weighted performance categories. For the 2020 performance year, CMS will maintain the same weights as in 2019.
Quality: 45%
Promoting Interoperability: 25%
Improvement Activities: 15%
Cost: 15%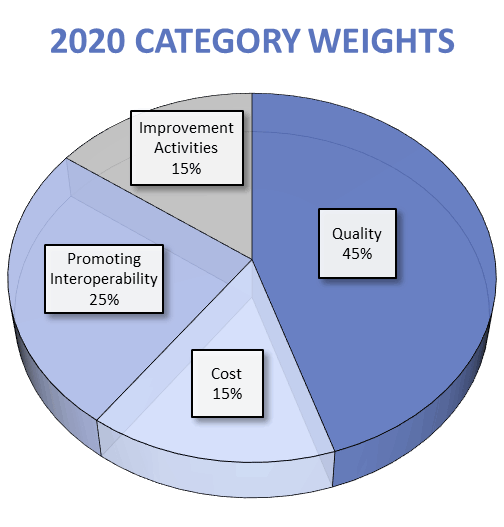 Participation Options
For 2020, clinicians may choose to participate in MIPS as an individual, group, or virtual group. Note that the selected level of participation must be used across all four performance categories. Clinicians may also choose to collect and report data via multiple mechanisms, including claims (limited to physicians in small practices), registry, EHR, and web-based attestation (via the QPP Portal). Clinicians can use different collection mechanisms across performance categories (e.g., report quality measures via claims and improvement activities via registry), but also within performance categories (e.g., report measure A through claims and measure B through a registry). For members seeking to collect data via a registry, a list of Qualified Registries (QRs) and Qualified Clinical Data Registries (QCDR) approved for 2020 can be found in CMS' QPP Resource Library.
Payment Implications
MIPS eligible clinicians who do not participate in MIPS in 2020 may be subject to a negative (-9%) payment adjustment in their 2022 payments.
For those who do participate in the program, payment adjustments can range from -9% to potentially +9% depending on their aggregated performance across the four MIPS categories.

Because MIPS payment adjustments are budget neutral, the upward adjustments cannot be determined until the total amount of downward adjustments is determined.

MIPS also includes additional bonus payments for "exceptional performers."

These bonuses are funded through a separate pool of money that is not impacted by the budget neutrality rules of the base adjustment.

For 2020, a physician or group practice must earn a MIPS Total Score of at least 45 points to avoid a penalty in 2022, which is 15 points higher than the threshold approved for 2019. To qualify for the exceptional performance bonus in 2022, a physician or group practice must earn at least 85 points in 2020.
Other Notable Changes for 2020 and Beyond
Quality Category
In regards to quality measure reporting, CMS has increased the minimum reporting requirement (known as the data completeness threshold) from 60% to 70% of all patients to which the measure applies in 2020.
At the same time, CMS has scaled back on the number of MIPS quality measures available to breast surgeons. CMS has removed the following quality measures from MIPS starting in 2020:

#112: Breast Cancer Screening
#262: Image Confirmation of Successful Excision of Image-Localized Breast Legion
#264: Sentinel Lymph Node Biopsy for Invasive Breast Cancer
#449: HER2 Negative or Undocumented Breast Cancer Patient Spared Treatment with HER2-Targeted Therapties

CMS also made substantive changes to the following measure for 2020:

#450: Trastuzumab Recevied by Patients with AJCC Stage I-III and HER2 Positive Breast Cancer Receiving Adjuvant Chemotherapy

As a result of these changes, breast surgeons will have to select measures from the General Surgery Specialty Measure Set, which includes the following measures for 2020:

#264: Sentinel Lymph Node Biopsy for Invasive Breast Cancer
#357*: Surgical Site Infection
#358*: Patient-Centered Surgical Risk Assessment and Communication
*Note measures #357 & 358 contain general surgery codes and not breast specific procedure codes
Improvement Activities Category
For a group practice to get credit for a specific improvement activity, at least 50% of the clinicians in the practice need to perform the same activity during any continuous 90-day period within the 2020 performance year. Previously, CMS only required that a single clinician perform an activity in order for the entire group to get credit for that activity.
Cost Category
CMS added a new episode-based cost measure titled "Lumpectomy Partial Mastectomy, Simple Mastectomy," developed with input from ASBrS clinical experts. CMS calculates cost measures automatically based on claims so there are no data submission requirements. For more information about this new episode-based cost measure, and other cost measures finalized for 2020, please visit the MACRA Feedback page (see list of downloadable resources under "MACRA Cost Measure Development (Wave 2 – 2018)").
Scoring Policies
Similar to 2019, CMS will continue to assess performance at the facility level for select physicians who practice primarily in hospital settings and meet CMS' definition of "facility-based." For these physicians, CMS will automatically rely on the Hospital Value-Based Purchasing (VBP) Program performance score in lieu of a MIPS score in 2020, if the VBP score is higher than the physician's combined quality and cost category scores under MIPS. More information about "facility-based" scoring can be found in the QPP Resource Library.
In response to concerns about the complexity and burden of MIPS, CMS will begin to implement a framework known as MIPS Value Pathways (MVP) starting in 2021. MVPs will aim to reduce clinician burden, provide for a more meaningful participation experience, and better prepare clinicians for participation in alternative payment models (APM). The framework would rely on specialty, condition, and/or procedure-focused episodes that aim to better align measures, reduce reporting requirements, and enhance performance feedback. Click here to learn more about the future direction of MIPS.
What are Alternative Payment Models?
Alternative Payment Models (APMs) are a payment approach that gives added incentive payments to provide high-quality and cost-efficient care. APMs can apply to a specific clinical condition, a care episode, or a population. Advanced APMs are a subset of APMs that meet specific requirements, such as taking on financial risk for the value of their patients' care. Physicians participating sufficiently in an Advanced APM in 2020—known as Qualifying APM Participants or QPs—are exempt from MIPS and eligible to earn a 5% Medicare incentive payment in 2022.
The number of clinicians in this track will remain relatively small compared to those in the MIPS track, particularly among specialists for which few Advanced APMs are currently available. For a list of Advanced APMs approved for 2020, please visit the QPP Resource Library. Physicians can use the QPP Participation Status Look-up Tool to determine whether they qualify as a QP in 2020. CMS will post initial predictive QP determinations starting in the spring of 2020.
Additional Resources